For some years now, over a thousand of students learned LibreOffice in my on-line video-courses. Above I continuously review all my courses. In addiction recently I am going through a major revamp of this series starting from LibreOffice Writer.
What is LibreOffice?
LibreOffice is a productivity suite, a group of applications. For many it's simply an alternative to other solutions like Microsoft Office. Also the peculiarity of LibreOffice is to be free with some specific features like the strong support of open document formats. You can discover more about LibreOffice on the website.
What is LibreOffice Writer?
LibreOffice Writer is a word processor, an application that you can use to write letters, documents, texts, books, scientific publications and much more. If you want you can find out more information about it on this page.
Why did I produce a video-course?
For several years now I have been using LibreOffice, basically since it was born, for my personal and professional activities. I use LibreOffice Writer to create letters, offers and documents for my courses. I design visual aids for my presentations mainly with Impress. Similarly I create budgets and invoices with Calc.
I have also published some articles in the LibreOffice section of the blog.
Several times people asked me if it was difficult to use, if you could migrate from Office to LibreOffice with ease, or simply asked me for advice on how to do something. So I decided to gather my experience in a series of video courses dedicated to LibreOffice, where to show how to do those things that interest most people. How do I a format a good-looking letter? Or how do I create the slides for a presentation? How can I quickly design a simple budget?
With this idea in mind, the series Learn LibreOffice Now! was born, trying to show step-by-step how to use it with examples taken from everyday life and from my usage experience.
How does the video-course work?
The Learn LibreOffice Now series is now arranged by application, the currently available courses are: Writer (word processing), Calc (spreadsheet) and Impress (presentations). Writer is the first course that went under full re-recording. Why is it divided by applications? Not everyone uses all the LibreOffice components, so for simplicity I have separated them, those interested only in presentations can follow only the Impress course.In the suite there are also Draw (drawing), Math (mathematics) and Base (database), I didn't develop them because they have a lower popularity. In the future I may create these courses if there is a demand.
Each video course is divided into sections and each of this in lectures. Some sections are common to the whole LibreOffice suite, thus you found them in all video courses. The Writer course then has a section dedicated to word processing. Most of the lectures are videos, where I show how to do something or how to use certain tools (for the list of chapters I suggest you to look at the curriculum of the course). For example, I show you all the steps to create a professional letter starting from raw text, or how to use styles to save time when you have structured documents. On the screen you see step-by-step operations.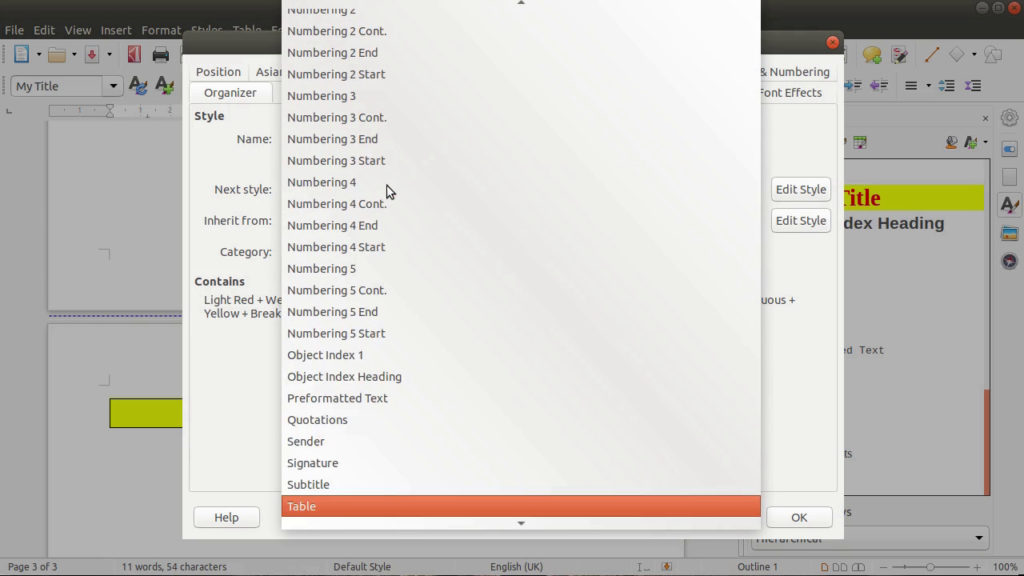 In some lectures there are some sample documents that can help you, in others exercises for you to try. You can practice what you have seen learning from direct experience.
Where is the course?
The Writer course is located on my online school (the link contains a coupon for the launch of the new version of the course). At the moment most of the chapters are already updated, the others will be in the next few days. Clearly, those enrolled in the course will always see all new chapters and all future updates automatically (and without having to buy them).