I recently bought some items online, which arrived on time and as expected. The products appear to be of good quality and at a reasonable price. All satisfactory and as a bonus there was a card inside the package.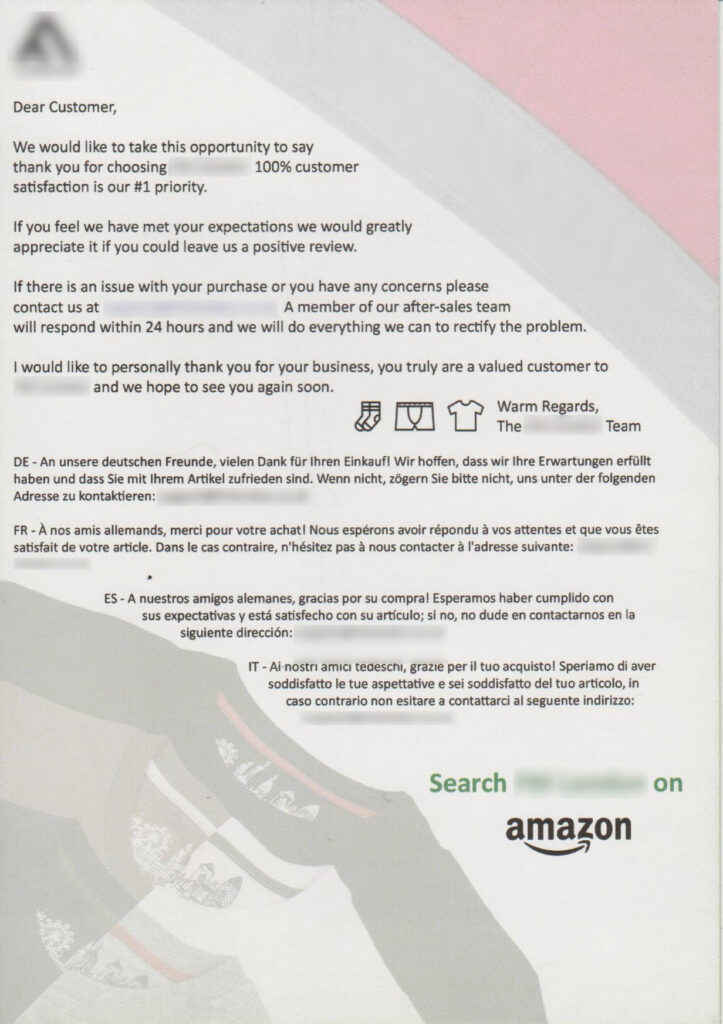 It is a good communication idea that can get them more reviews, I do the same for my video courses, in particular for those on marketplaces, where the competition is greater, and the opinion of other customers can make a difference in the buying decision. In addition to this, it is certainly a positive gesture of attention towards the customer. Unfortunately, however, it seems to me that the last step is missing to get it completely done (100%).
Later on the card I read that someone wants to "…PERSONALLY thank me…", except that someone turns out to be a rather impersonal team that signs it.
The statement on customer satisfaction is then reiterated in several languages including Italian.

This says "To our German friends, thanks…".
Let me point out that I place the order on an Italian market place, from an Italian account and shipped to Italy.
Albeit I don't see anything wrong in thanking Germans customers if they buy their products, it really doesn't feel it was meant for me.
Thought 1. It was a product originally for the German market, that it was eventually shipped to Italy. Negative perception: it was not really for my market.
Thinking twice it's unlikely. Why bothering writing all the other languages, or why not writing the whole card in German?
Thought 2. It's a superficial copy and paste translation. They wrote the German version and then automatically translated it in French, Spanish and Italian without bothering to change who is addressed to. Negative perception: poor attention for a message which should be about ATTENTION to customers.
It's not the first time. A tea producer who claims that its leaves are freshly packed included a card with a promotion that was expired by 6 months.
Communicate more with your customer is (almost) always a good idea. Mind that your communication should be done properly and thoroughly.
Photo by Mike van Schoonderwalt from Pexels