Training is an investment. If it does directly apply to the core commercial activities of business then the return is more effective. Public speaking is crucial to sell, negotiate, motivate and inform your audience. It can trigger success or failure.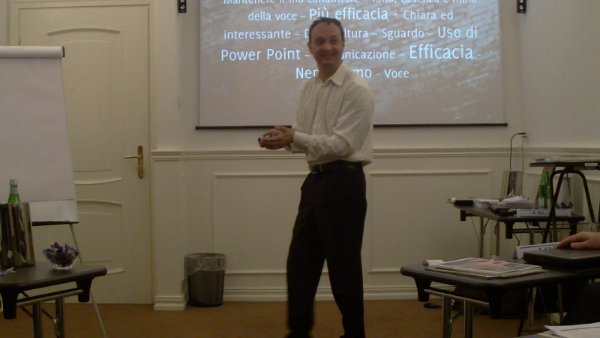 Successful Presentation is based on that and it's peculiarities are:
It's a practical workshop, versus theory, making skill assimilation much easier;
The training scenario is real and thus it's immediate to put concept in practice in your daily business;
The whole program builds on individuals, it is effective regardless of current level of expertise and, at the same time, I guarantee everyone improves thanks to it.
Those are two learning days perfect for who has to deliver formal or informal presentations that have to be clear, effective and persuading.
Who should attend?
Executives who speak before shareholders, investors, customers or employees;
Marketing, sales or financial people presenting to customers, suppliers or colleagues;
Managers to inform, motivate or coach people through speeches, presentation or informal meetings;
People required to public speak in a business, social or political environment.
Which are the objectives?
The two days are split in different sections all very interactive. The content spreads over different topics including:
The importance and the key factors in presenting;
A consistent approach in preparing a presentation;
Capitalise and leverage individual skills in communication;
Effective usage of visual aids;
Feel comfortable in speaking before a group and connecting with the audience.
What makes Successful Presentation really effective?
SP is more of an "environment" rather than a traditional training set-up. Attendees benefits from direct experience and active interaction not from schoolbook studying. Everyone is incentived in developing her/his unique skill set and style and not to adapt to given directions. The whole focus is on practical issues and in reaching concrete, measurable and reachable results. The presentation sessions are very good for practicing concepts in a "safe" scenario. Every participant is given a starting benchmark and the visual proof of her/his improvement along the seminar.
*it's not sure it is really his quote. Socrate seems to have said something similar. If no one claims I will do it: it's too true to pass it.